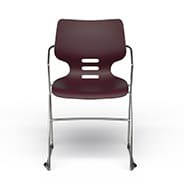 Features:
Indy's ergonomic features and great style ensure your visitors sit comfortably. Flex back provides 15 degrees of movement to allow re-positioning during long periods. Floor glides are provided as a standard feature. INDY's wire rod frame is available in either black or chrome finish and with or without arms. Choose from three upholstery options to suit your needs: all plastic, upholstered seat or all upholstered.
Download Brochure
Select a Model below to Get a Quote
Typicals
Features
Color Options
Guest / Side
There is only one chance for a first impression. Make it count with quality and stylish visitor seating and guest chairs from Warehouse of Fixtures. Attractive, functional and affordable, it's visitor seating done right.
View All Guest / Side
View All Seating